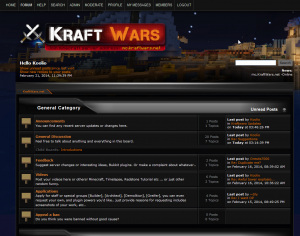 This website was made as part of a new spinoff factions based Minecraft server that was itself part of the Kraftzone.net network of gaming servers. 
A new logo and custom themed website was built ontop the PHP SMF forum like the original Kraftzone website. Along with a tailored theme for the new style and gameplay of the server.
Unfortunately the only screenshot I took of the website during it's early development. While the site and databases are now archived perhaps I might set those up on localhost to take some more screenshots of it. While the website and server never reached the popularity of its bigger Kraftzone minecraft server, it still gathered a small community of players who liked the factions based gameplay along with the full access to TNT destruction on the server.
Some very creative buildings and new towns were built on this server that sadly never got the exposure they deserved.  I'll try put some of those pictures up when I dig through the archives sometime. For now, just the original trailer I did for the server…